Replacement Convention Traveller Badges & Year Pins Badges are available for purchase at all Australian National Square Dance Conventions.
Due to Transport costs, Badges will not be available at the Darwin NT Convention in 2024, although you will be able to  order, pay and have your selection posted to you after the Convention
Should you require badges before the Darwin Convention, please contact our Merchandise Officer and we can arrange to post them to you.
Contact: sales@squaredance.au
NB: All prices are Plus Postage if required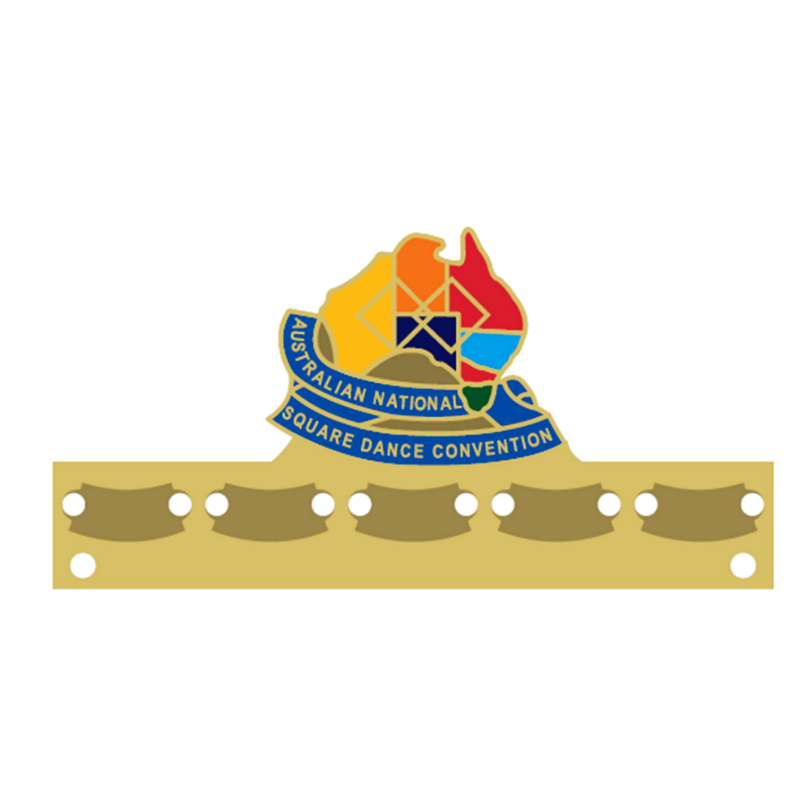 Traveler Badge – Platypus
Traveler Badge – Kangaroo
Please note: Not all years are available, we shall endeavour to update this list in the near future,
In the interin, please fell free to contact us with your requirements.
| Year | Pin | Number | City | State |
| --- | --- | --- | --- | --- |
| 1960 | | 1 | Canberra | ACT |
| 1961 | | 2 | Sydney | NSW |
| 1962 | | 3 | Brisbane | QLD |
| 1963 | | 4 | Newcastle | NSW |
| 1964 | | 5 | Melbourne | VIC |
| 1965 | | 6 | Sydney | NSW |
| 1966 | | 7 | Adelaide | SA |
| 1967 | | 8 | Brisbane | QLD |
| 1968 | | 9 | Newcastle | NSW |
| 1969 | | 10 | Melbourne | VIC |
| 1970 | | 11 | Sydney | NSW |
| 1971 | | 12 | Perth | WA |
| 1972 | | 13 | Brisbane | QLD |
| 1973 | | 14 | Newcastle | NSW |
| 1974 | | 15 | Adelaide | SA |
| 1975 | | 16 | Melbourne | VIC |
| 1976 | | 17 | Hobart | TAS |
| 1977 | | 18 | Sydney | NSW |
| 1978 | | 19 | Perth | WA |
| 1979 | | 20 | Brisbane | QLD |
| 1980 | | 21 | Adelaide | SA |
| 1981 | | 22 | Launceston | TAS |
| 1982 | | 23 | Brisbane | QLD |
| 1983 | | 24 | Melbourne | VIC |
| 1984 | | 25 | Canberra | ACT |
| 1985 | | 26 | Perth | WA |
| 1986 | | 27 | Adelaide | SA |
| 1987 | | 28 | Geelong | VIC |
| 1988 | | 29 | Sydney | NSW |
| 1989 | | 30 | Hobart | TAS |
| 1990 | | 31 | Brisbane | QLD |
| 1991 | | 32 | Melbourne | VIC |
| 1992 | | 33 | Adelaide | SA |
| 1993 | | 34 | Perth | WA |
| 1994 | | 35 | Canberra | ACT |
| 1995 | | 36 | Sydney | NSW |
| 1996 | | 37 | Launceston | TAS |
| 1997 | | 38 | Newcastle | NSW |
| 1998 | | 39 | Adelaide | SA |
| 1999 | | 40 | Brisbane | QLD |
| 2000 | | 41 | Geelong | VIC |
| 2001 | | 42 | Tamworth | NSW |
| 2002 | | 43 | Mandurah | WA |
| 2003 | | 44 | Caloundra | QLD |
| 2004 | | 45 | Hobart | TAS |
| 2005 | | 46 | Warrnambool | VIC |
| 2006 | | 47 | Niagara Park | NSW |
| 2007 | | 48 | Adelaide | SA |
| 2008 | | 49 | Brisbane | QLD |
| 2009 | | 50 | Perth | WA |
| 2010 | | 51 | Wodonga | VIC |
| 2011 | | 52 | Darwin | NT |
| 2012 | | 53 | Hobart | TAS |
| 2013 | | 54 | Niagara Park | NSW |
| 2014 | | 55 | Canberra | ACT |
| 2015 | | 56 | Adelaide | SA |
| 2016 | | 57 | Buderim | QLD |
| 2017 | | 58 | Bendigo | VIC |
| 2018 | | 59 | Perth | WA |
| 2019 | | 60 | Deloraine | TAS |
| 2020 | | 61 | Katoomba | NSW |
| 2021** | | " " | | |
| 2022 | | 62 | Goulburn | NSW |
| 2023 | | 63 | Adelaide | SA |
Send you queries to our Merchandise Officer by using the form below